A leisure travellers' paradise, Seychelles is a destination well known for its year round sunshine, turquoise blue ocean and stunning golden beaches that are perfect for relaxing and enjoying thrilling water sports. But beneath the veneer of being a top beach holiday destination, Seychelles is also home to talented artists. Owing to the influence of colonial French heritage as well as Asian and native African cultures, the destination boasts a rich cultural heritage.
Among the most acclaimed artists in the region is Colbert Nourrice. This young painter has succeeded in putting Seychelles on the contemporary art map. As an aspiring and promising young artist, Colbert Nourrice has received great media attention and much admiration for his works of art that speak of the cycle of daily living. Contemporary art is known as a form of pure expression of a person's innermost thoughts merely with the use of paint and a blank canvas.
Having won the 3rd award in the 5th Biennale of Contemporary Art in 1996, Colbert has his own style of painting using motifs, symbols and signs which form a remarkable tapestry of linear images bearing close resemblance to Egyptian hieroglyphics.
Visit the Colbert Nourrice Studio – gallery which is the treasure trove of this popular artist's work. Situated in Mahe Island, the gallery showcases some of his most admired works including paintings and even sculpture. You will notice that his art work is primarily a fusion of classical Asian styles and African tribal art traditions, resembling Seychelles' blend of various cultures. Colbert's creations are noted for their vibrant designs and bold colours.
Several other internationally recognized local artists to keep an eye out for are Gerard Devoud, George Camille, Andrew Gee and Michael Adam. The forms of art unique to the Seychelles include carvings, glass art, creations of watercolours and silk screens.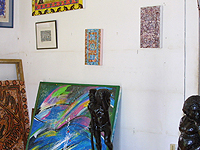 If in search of a hotel in Seychelles to base yourself at, Raffles Praslin Seychelles makes for an ideal choice. Nestled amidst enchanting coastal beauty, this plush Seychelles hotel is an oasis of tranquillity for leisure travellers to unwind in. Offering a blend of five star comfort and impeccable service, the hotel is in proximity to various tourist attractions.
Thanuja Silva is a travel writer who writes under the pen name Auburn Silver. She has a passion for fashion and a deep interest in admiring new and exotic attractions around the world.