Having an intimate meal with your significant other while you're on holiday can be a wonderful memory you take away from your holiday. So if you're on holiday and looking for restaurants in Mui Ne, you can try one of the following, or try a restaurant of the hotel you're staying at, like the ones at the Anantara Mui Ne Resort.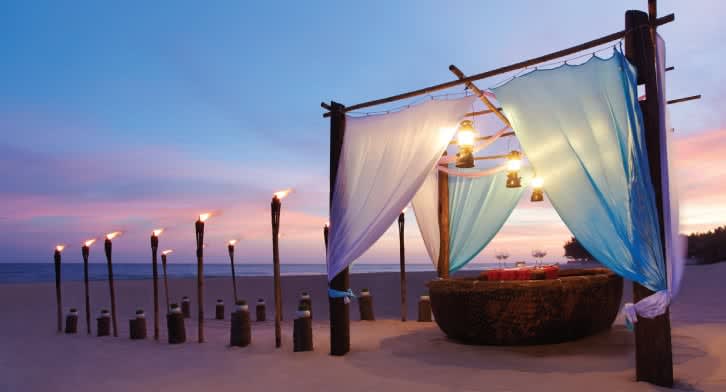 Luxury Bar
Located at Nguyen Dinh Chieu, the Luxury Bar is honest to goodness. it opens at 12 midnight and stays open through to 6 in the morning. This establishment has a seated dining area that offers dinner, after-hours meals ranging from pizza to fast food and drinks ranging from alcoholic to non—alcoholic drinks.
Bar 17 Kiteburek
Again located on Nguyen Dinh Chieu, this establishment serves an eclectic collection of cuisines from International fare to Vegan and Vegetarian-friendly options. Interestingly, this place is also open 24/7, so you can walk in any time you want. There is a bar you can have a drink at first before you proceed to the seated private dining.
Déjà vu Restaurant
Open from 10 in the morning till midnight, this restaurant also serves a wide range of cuisines from seafood, to Asian to Local to Russian and European but specializes in the first three. It too has vegan options on the menu. Unlike the former two, this place does not have a bar but serves alcoholic beverages.
Mot Nang Seafood
As the name itself suggests, this restaurant specializes in Seafood. While it does have vegan and vegetarian options, it is known for its seafood. The cuisine is decidedly Vietnamese and affordable in prices as well. it has a bar where you may sit and have a drink before you're seated. They open from 3.00 pm and close shop at midnight.
Damon Starky is a creative nomadic travel writer, who is well informed and experienced on a wide range of interests that would connect to the needs of any type of traveler. Google+